Fireline
The Fireline range offers a wide variety of multi-fuel stoves. Key features include a 5mm and 10mm thick laser profiled and seam-welded steel construction for strength and long life, draught-controlled tertiary air systems, plus many more unique benefits. All freestanding models fitted also come with solid fuel burning kits as standard.
Please have a look at our online brochure for Fireline here to see the wide selection of stoves on offer or pop in to our showroom to see some of the range we have on display.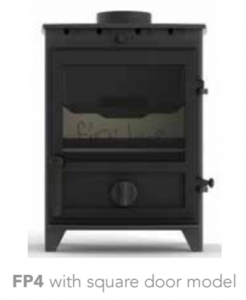 FX4 & FP4 multi-fuel stoves – 4/4.5kW
Superior, large-stove performance from a small, narrow design means that these models combine the efficiency and economy of  small stove with the enhanced performance of a much larger model. Fitting virtually any aperture, this design is freestanding.  There is a choice of square or curved door styling, both of which offer superb flame pictures whether you burn wood or other fuels.
Prices for FX4 & FP4 stoves from Fireline start from – £497.00 plus VAT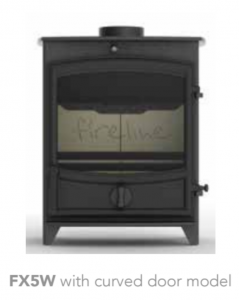 FX5W & FP5W – 5kW
Although these stoves are a 5kW output, the design gives the look of a larger 8kW wide screen stove. This has been achieved by a slight reduction in the depth of the grate area whilst the overall 500mm width of the stove is that of the larger 8kW model. With a firebox lined with ceramic clean burn liners and Fireline's own patented firebox air supply technology, clean burning is assured from the beginning – CE and DEFRA compliance are formalities.
Prices for 5kW stoves from Fireline start from £597.00 plus VAT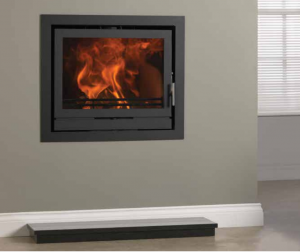 FPi8  multi-fuel stoves– 8kW
A classical yet contemporary design, the FPi8 features an outstanding wide flame window that gives this model a superb room presence. The extra-large fire chamber accepts logs over half a metre in length, which provides a more efficient heating, and time saved cutting logs to a smaller size.
Prices for 8kW stoves from Fireline start from £868.00 plus VAT