Contura
Distinguishable by its unmistakable Swedish style, Contura design and manufacture a wide range of wood burning stoves that are ideal for bringing warmth into any environment.  A modern stove built to the highest standards of quality, offering a high energy output and outstanding style that is unlike any other on the market.  Most of the stoves produced by Contrua have very generous glass areas on three sides.
Please have a look at our online brochure for Contura here to see the wide selection of stoves on offer or pop in to our showroom to see some of the range we have on display.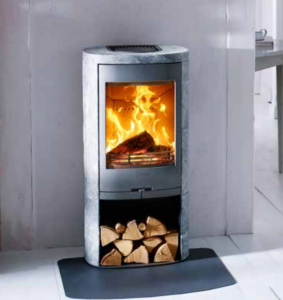 Contura 820T
The ellipse shaped Contura 820T with soapstone is small in form, but mighty in function. With sides clad in heat retaining soapstone, the unique veined stone makes a wonderful contrast to the flames behind the generous glass in the door.
The Contura 800 range can be chosen with or without side glass, fully or partially clad in natural heat retaining soapstone, with or without storage.  It can even be placed on a pillar with turntable so the fireplace is in the centre of the room!
Prices for the 800 range start from £1162.00 plus VAT
Contura 51L 
Available in black or grey, the Contura 51L is a hugely popular modern cast iron stove with convection air.  The harmonious and timeless design makes the stove easy to position in different environments, available in multiple options including soapstone and adjustable legs.
Prices for Contura 51L start from – £995.00 plus VAT
Contura 630 
The Contura 600 range has a larger firebox than the 500 this means a larger expanse of glass and that longer logs can be used. There is a practical space at the top that can either be used as an open warming shelf or baking oven.  Many models have a choice of casing from cast iron, steel disc or heat retaining soapstone.
Prices for the 600 range start from £2075.00 plus VAT